Acupuncture was first developed in China thousands of years ago. Modern acupuncture has made many changes to the original concept of using fine-pointed bone or stone needles to make a person feel better. Johnson Chiropractic and Acupuncture in Lincoln, NE, looks at the facts about acupuncture.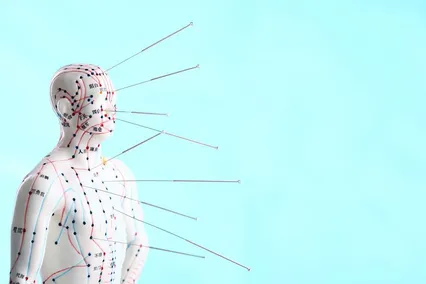 What Is Acupuncture?
Modern acupuncture uses very thin, sterile stainless-steel needles. They are used only once to limit the risks of infection. They are inserted into special points on the body called meridians. They are then stimulated gently by hand, with the use of heat or by very low doses of electricity.
How Acupuncture Works
The needles and their movements help stimulate the body to produce chemicals that help reduce pain and promote a feeling of well-being. Chemicals released include endorphins, norepinephrine, and enkephalin.
Conditions Treated by Acupuncture
Acupuncture helps with chronic pain conditions like arthritis, headaches, migraines, neck pain, back pain and knee pain. The National Institutes of Health report that acupuncture has some success treating asthma, dental pain after surgery, severe menstrual cramps, tennis elbow, and carpal tunnel syndrome. It's been effective to help control pain and nausea after surgery in some situations. It is also used to help control some pain and nausea for cancer patients on chemotherapy.
Side Effects of Acupuncture
There are very few side effects of acupuncture. There may be minor bleeding and soreness at the insertion sites. When the needles are inserted, there may be a slight sting or a pinch-like sensation. Some people feel very energetic after a session. Many people feel so relaxed that they fall asleep.
What an Acupuncture Session Is Like
Your first session will be the longest since that usually involves filling out forms. You may also be asked about your diet and lifestyle to better help the acupuncturist know what you need. A basic session involves inserting anywhere from four to 20 needles. These are then moved by hand or hooked up to a machine that stimulates them with very low doses of electricity. The whole session should take about half an hour.
Advantage of Acupuncture
The big advantage of acupuncture is that it can be used safely in combination with other therapies and treatments. This is different from having to take a new medication, where you have to worry about how it will interact with all the other medication you take. Acupuncture is not meant to replace conventional medicine, but it can help reduce the amount of medication you need to take while making you feel better.
Let Us Help
If you would like to know more about the benefits of acupuncture and live in the Lincoln, NE, area, contact Johnson Chiropractic and Acupuncture at (402) 464-0444 to make an appointment today.